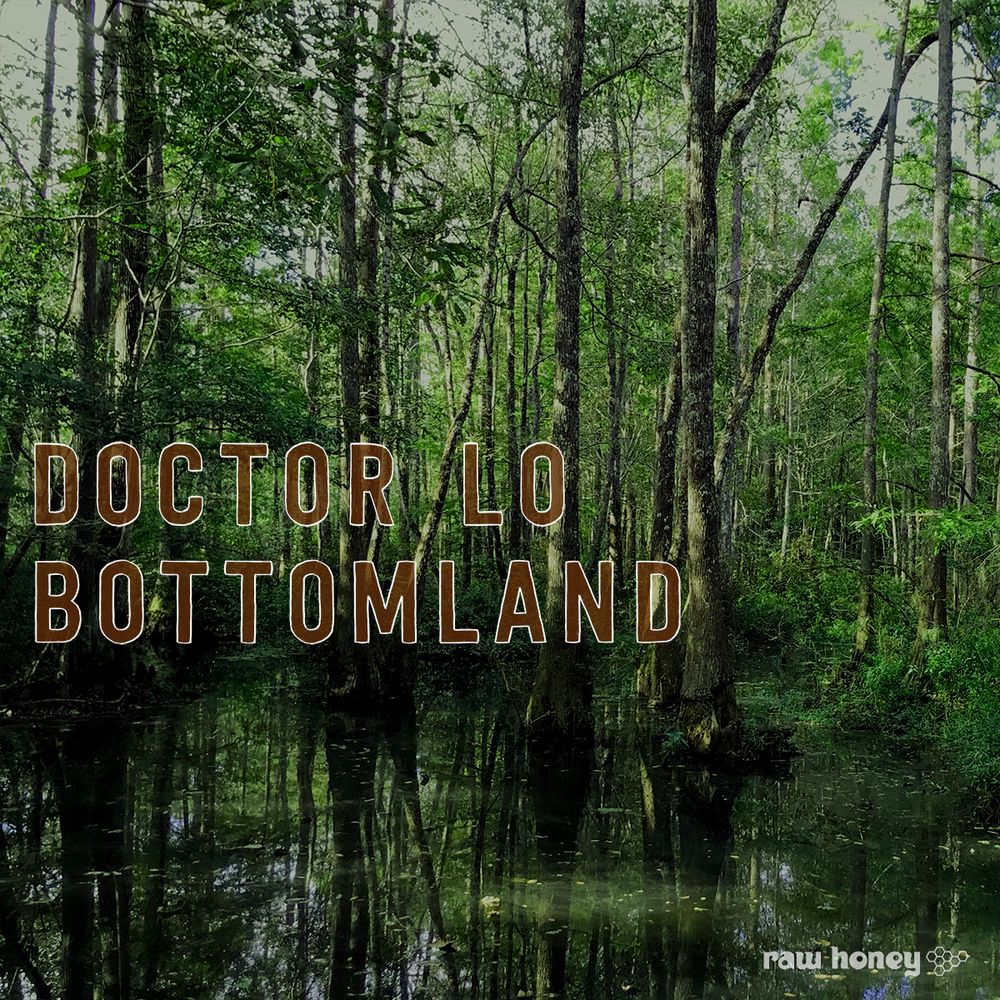 About 'Bottomland'
the new album from Doctor Lo
Bottomland, Dr. Lo's first solo album since 2003, is a return in two way. It's a return to full time music making for the former college professor, and it also marks a return to Faber's musical origins: bluegrass, folk, country, and everything in between. While God Street Wine was known for funky, Steely Dan-derived jam pop, and Faber's rock operas added Zappa-influence prog rock to the blend, Bottomland is front porch acoustic roots music steeped in influences from George Jones to Emmylou Harris to the Jayhawks and Jason Isbell, punctuated by Faber's plaintive lap steel and frailing banjo in addition to his more familiar guitars and keyboards.
Here's what Dr. Lo posted on his social media pages recently about the album:
So yeah, a little bit about this new solo album of mine Bottomland - which has evolved over the course of the past year or so, and which should be up for y'all to hear in about ten days. I guess you might call it a folkie-country album, or at least tilted in that direction. It's pretty quiet, pretty acoustic - and I say this because I know there are some of you who like GSW to be the loud, funky, jammy party band, and who get a little impatient when we bring it down too low - and that's fine of course, if that's your cup of tea, I love that you love the louder stuff! - but if you're here because you like Epiphany and Mantoloking and the jams on Hellfire and Imogene, fair warning, you might not dig Bottomland that much.
And folkie-alt-country isn't the only thing I'm ever gonna do from now on, it just happened to be the right vibe for this particular bunch of songs. And the subject matter of the songs is pretty intimate and personal too, there's songs about my dad, and my son, and my personal life, and even one about growing old and loving Rolling Rock beer ... and because the musical style was a little different and the songs were a little more personal, it just made sense to me to record and release these as a solo project rather than with God Street Wine.
Some of you were curious about who else is on the record - well, there's a fella named Tom Osander you might know, who plays drumset on one track and percussion on another; there's a great New Orleans drummer named Isaac Eady who plays drums on four of the tracks; and four of the tracks have no drums. There's also a string section on three of the tracks, arranged by the talented Jayne Edwards, and performed by Rebecca Crenshaw, Amelia Clingman, Clara Sinou, and Joshua Sierra. And finally there's also horns on one track played by my former colleague Jeff Albert and his 13-year-old daughter Emily. I'm so lucky and grateful to have had the help of these great musicians. Everything else you hear on Bottomland - all the guitars, basses, mandolins, lap steels, keyboards, and vocals - is all me.
I also wanted to mention some of the influences, because again it's pretty different from the GSW musical idiom you might be familiar with. First off as some of you know, I grew up, thanks to my mom, listening to bluegrass, especially Bill Monroe, Don Reno, the Country Gentlemen, Flatt & Scruggs, the Lewis Family, and so much more; as well as folkies like Joan Baez and Tom Paxton; and in the country world I love George Jones, Willie Nelson, Merle Haggard, Tammy Wynette, Dolly Parton, Emmylou Harris, Johnny Cash, and more recently Gillian Welch, Jason Isbell and Sturgill Simpson; as well as in the rock-country crossover world, artists like Jackson Browne, Gram Parsons, Lucinda Williams, and certain tracks by the Stones, the Allmans, lots of early Dylan, and the more bluegrass-inflected side of the Grateful Dead. And of course I'm leaving so much out but I think that list pretty much tells you the musical universe that this particular collection of tracks is coming from. And of course I'm not claiming that I'm anywhere near as good as any of the names on this list, and if I imitate them, it's not because I think I can equal or surpass them, just that I love all this music so much and it has been so much in my heart and soul for so long.
And finally, as to the title - "Bottomland" is the title of one of the tunes, a poem written by my wife Lisa Snyder, which I adapted as a song - which in turn took its title from the Bottomland forest, which is a type of swampy cypress, hickory, or sweetgum lowland forest that we have a lot of down here in flat, wet Louisiana and Mississippi, for example in the Pearl River and Bogue Chitto regions and at the famous Honey Island Swamp. The bottomland is a pretty dark, and sometimes dangerous place to be, but it is also necessary for the survival of the greater ecosystem, and so I leave you to ponder the not-very-complicated additional meanings and overtones which the title might carry :)
Anyway, whether you love or hate this record, thanks so much as ever for your kind support and attention. I do not at all take that for granted at this point in my life. Love and peace always, Lo
ABOUT '33'
The song '33' is the first single and first video from 'Bottomland' and has a unique back story. As a touring rock musician in the 1990s Dr. Lo was generally given a case of Rolling Rock beer backstage. he spent many an hour reading the text on the back of the bottle, which reads, "From the glass lined tanks of Old Latrobe, we tender this premium beer, as a tribute to your good taste, it comes from the mountain springs to you - 33." The composer vowed to one day write a song in which those words comprised the chorus, and '33,' of course, is that song - filtered through his experience as a middle-aged college history professor. In Faber's words, it's "a song about sadness, and academia, and Rolling Rock beer, and loving the unattainable, which is represented by that magic inexplicable number 33."
SPECIAL GUESTS
Recorded in New Orleans throughout 2019, 'Bottomland' features Dr. Lo on acoustic and electric guitars, basses, lap steels, banjos, mandolins, pianos, and organs, as well as all the vocals - along with an all star cast of support musicians as follows:
Isaac Eady - Drums
Tom Osander - Drums
Tom Pirozzi - Bass
Jeff and Emily Albert - Horns
Rebecca Crenshaw - Violin and Viola
Amelia Clingman - Violin
Gina Forsyth - Violin
Clara Sinou - Violin
Joshua Sierra - Cello
Josh Himmelsbach - Mandolin
Scott Billington - Harmonica
Mikaela Davis - Harp
Jenna Hunts - Harmony vocals
SONG LISTING
1. Nice Mama #4
2. The Lucky Ones
3. '33'
4. Perfect
5. Steal Away
6. Bottomland
7. Cry 'Em All Now
8. One Stupid Song
9. Nice Mama #4 (version 2)
10. The Thing About Love Is
More info: lofabermusic@gmail.com